Subscribe to free Big Brother Alerts:
April 11, 2013
|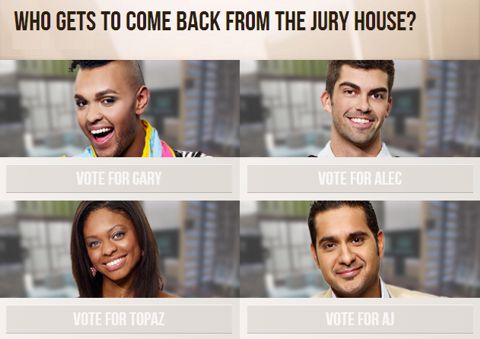 This twist could be huge for Big Brother Canada. Viewers now have the chance to vote back in one member of the Jury to return to the house and, presumably, compete in the game once again for a chance at the $100,000.
Thanks to the latest "PowerShift" twist to hit the game, either AJ, Gary, Alec, or Topaz will win this opportunity based on the public's votes. Sorry, Tom & Liza fans, they're not eligible. Only Jury members are up for the return.
So who do you think should get voted back? It seems the obvious choice is Gary, based on what I'd expect viewers to do, but maybe I'll be surprised.
Vote in our unofficial Big Brother Canada poll below then share your thoughts on why you voted the way you did. For the official voting, visit Slice's BBCAN website.
Subscribe to Big Brother Canada on Facebook, Twitter, Email, & RSS
Recent Posts on Big Brother Network:
Commenting Rules:
Keep the conversation civil and on topic. If your comment does not add to the conversation, it will be removed. Debate intelligently. Insulting the author, Big Brother Network, or other commentators will result in comment removal and possible ban. Any comments with links or flagged words will go into moderation before approval. Anything we deem as spam will not be approved. Comments left in ALL-CAPS will be deleted regardless of content.