Subscribe to free Big Brother Alerts:
February 22, 2013
|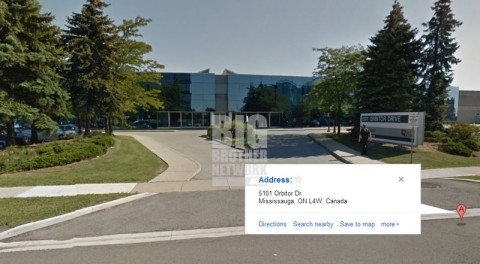 We've seen the inside of the new Big Brother Canada house, but now we know even more. Thanks to an anonymous tipster we've pinpointed the location of the BBCA set and are sure where the new cast of Canadian hamsters are about to be tucked away.
Hidden in plain sight is a large office building that's been gutted and retrofitted to hold the fifteen new houseguests all through this debut season of Big Brother. Want to see it yourself? You'll have to head over to 5101 Orbitor Drive, Mississauga, ON L4W, Canada
Since the "backyard" had to be constructed entirely indoors and use a sophisticated light system to help trick the hamsters in to thinking there's a day and night ecosystem it was tricky to confirm this as the right spot. Usually a big backyard in the satellite image takes care of that, but this time we had to go on a good ol' fashioned investigation to confirm.
Thanks to the awesome reader for sending over these Big Brother Canada details!
Subscribe to Big Brother Canada on Facebook, Twitter, Email, & RSS
Recent Posts on Big Brother Network:
Commenting Rules:
Keep the conversation civil and on topic. If your comment does not add to the conversation, it will be removed. Debate intelligently. Insulting the author, Big Brother Network, or other commentators will result in comment removal and possible ban. Any comments with links or flagged words will go into moderation before approval. Anything we deem as spam will not be approved. Comments left in ALL-CAPS will be deleted regardless of content.